£20 Gift Voucher Offer
The £20 gift voucher offer is only available in premises that agree to dispatch this promotion. Each leaflet offers a potential £20 to spend in the premises where you collected this voucher ... and nowhere else!
After receiving the leaflet (see sample picture to right of this page), you need to buy some wine with DfR for a minimum of £200 including vat. The wine could be bought in one bill or more than one bill*(see terms Bellow). Following the wine purchase, Dominic will contact you and issue a £20 gift voucher to spend in the premises where the voucher had been collected, then the gift voucher will be sent to you promptly .If you don't buy wine with DfR, there will be no gift voucher issue.
If you would like more information, please do not hesitate to make
contact
. Otherwise, enjoy your shopping with DfR, and do not forget to enter your
"voucher code" in the box,in 'view basket page'.
Eg: Add
VOUCHER CODE
Your voucher code can be found in the DfR promotional leaflet;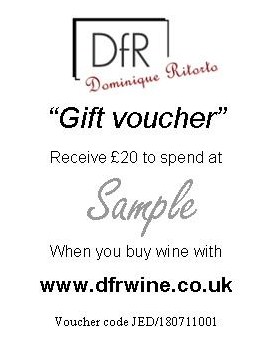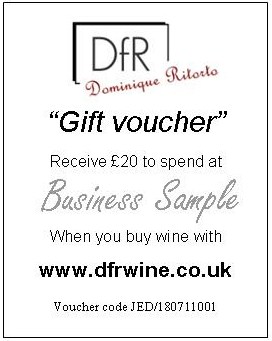 *Terms;
This offer will take place soon DfR as registered your details ,this could take up to 48 hours .This is cumulative offer as long it is no more than one year between the first bill and the second bill, and all bills together are over or match £200 including vat ,if applying.This offer applies only for the wine purchased in this website and excludes any other wine not available in this site.This offer can not be combined with any other promotional discount or offer,also this offer can not be used in conjunction with any other DfR Wines promotion. DfR got the right to re-draw this promotion at any time. All of the foregoing provisions do not affect your statutory rights as a consumer